10:44 AM Posted In
blog hop
,
blogs
,
following blogs
,
new blog followers
,
twee poppets
Edit This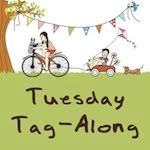 Blog Hops are great ideas for blog promotion, and they are simple! This blog hop is hosted by Twee Poppets. Just add your blog name and the URL of your TTA post to the MckLinky below. Follow Twee Poppets and leave her a comment that you are a new follower with the link to your blog, and Twee poppets will follow you back! Although not mandatory, it is always nice to follow the three blogs in front of yours (ie:if your blog is number 150, then follow blog #149-147.) This just helps everyone get a few new followers.
Twee Poppets can be found in the first slot. If you want the honor of having the second spot, then pass the word on in your blog- see
here
for how to do it.
This is a Blog Hop! 148 entries so far... you're next!